MENNEITÄ TAPAHTUMIA – PAST EVENTS:
28.-29.7.2012
AMOC Finland 10 years weekend event
During the last weekend of July 2012 Finnish Aston Martin owners celebrated the first ten years of AMOC activity in Finland.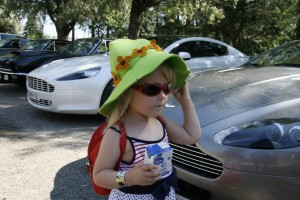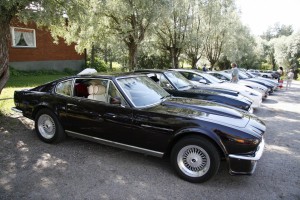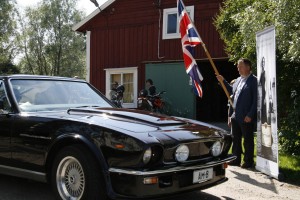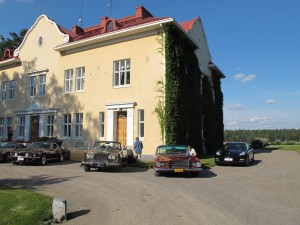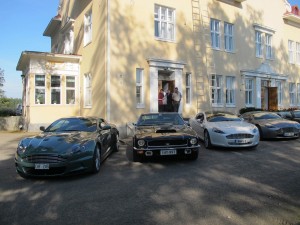 The programme started in Paippinen Motor Café near Helsinki where participants gathered for breakfast. Total of 18 people in 11 cars came to enjoy the sunny day and
drive along country roads to Hahkiala Manor in Hauho. In Paippinen, seven Aston Martins started for the route. The writer lead the way in his 1976 V8 Saloon. The other cars taking part were two DB7 Vantage Volantes owned by the same family, a V8 Vantage from 2006, a brand new white Rapide, a 2010 DBS in Aston Racing Green, and the Finnish area rep's 1984 V8 Vantage. In addition, a Rolls-Royce Corniche and 1962 Dual-Ghia of our members joined the convoy.
The organizers were delighted that the AMOC Social Committee chairman from the UK, together with his family, was able to make it to Finland and participated to the event with a loaner car.
Her Majesty's Ambassador to Finland Matthew Lodge together with his family honoured the event with their presence . The ambassador waved the Union Jack in Paippinen to send the cars to the route and also participated to the first leg of the day.
The participants visited a member's collection of cars along the way to our main venue – the Hahkiala Manor in Hauho. The "official" part of the celebration was Harri Asunta's speech in which he recalled the events during the first ten years of AMOC in Finland. Members also had the possibility to view the DVD featuring the 2006 AMOC Nordic Rally in Finland which has been the biggest single AMOC event in Finland so far. Afterwards, we had a chance to visit the beautiful manor house (complete with a resident ghost) and well-kept gardens in Hahkiala.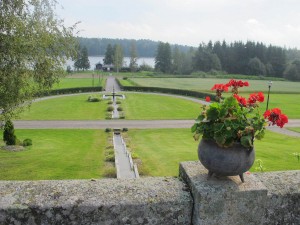 After sauna and swimming in a lake we enjoyed a delicious dinner. During the dinner our host, Mr. Fazer told us about the colourful history of the Hahkiala estate. The champagne – sponsored by Taittinger and the Stockholm Aston Martin Dealer Callisma Ab – crowned the impeccable dinner experience.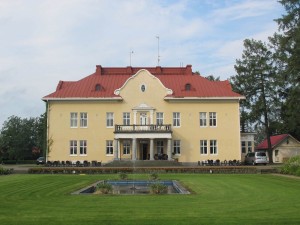 All but one participant also stayed in Hahkiala overnight. This ensured lively discussions continuing to late night. In spite of the long night, everyone made it to the breakfast and afterwards returned back with new memories of another interesting AMOC event.
by Harri Tuomola – shortened from the version published in the International AMOC Quarterly.
Aston Martin On King's Road – Finnish part of AMOC Nordic Tour 4.-13.8.2006
(Helsinki – Fiskars – Nauvo – Kökar – Mariehamn) 4.-9.8.
Aston Martin owners from Finland, Estonia, Sweden, Great Britain, Switzerland, Australia and Canada took part in the Finnish part of the Nordic Tour.
A new record number of 19 Astons were seen in our country in the same event.
Together with the AMOC members a total of about 100 sports and classic car enthusiasts met for lunch in Fiskars on 5.8.2006.
The organizers Harry A and Harry Too as well as all local members wish to thank the visiting participants and welcome you back to Finland any time, we really enjoyed your company and hope to see you again soon!
Pictures by Henrik Brotherus
Pictures from the Swedish part of Tour 9.-13.8.:
please check the Swedish AMOC website at
www.aston-martin.nu
Kevätajot 8.-9.5.2004 Hämeenlinna
Spring Rally 8.-9.5.2004, Hämeenlinna
getting organized by the Häme Castle, pit stop at Ahvenisto track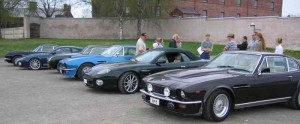 We had in total eight Astons assembling in the Katinen Manor, there we stayed overnight and had a memorable lunch, dinner, sauna and some stayed up until the small hours. Katinen Manor is also host for the only permanent Land Rover Experience in the Nordic Countries. Furthest to travel from was Mr Berndt-Heinrich Schriever, chairman of AMOC Deutschland
Die Another Day -elokuvan ennakkonäytökset ja Helsinki Motor Show 2002
– Goldfinger-elokuvan DB5 kävi Suomessa, auto oli esillä Helsinki Motor Showssa 29.11.-1.12.2002.AMOC Finland toimi projektissa yhteistyössä TNT Finlandin kanssa, jonka asiakastapahtumassa auto oli myös mukana. Suomeen tuotu yksilö on yksi James Bond -elokuvien tuottajien virallisesti hyväksymistä promootiokäyttöön rakennetuista autoista. Auton mukana seurasi myös omistaja, Peter Nelson, joka omistaa maailman suurimman yksityisen 007 -autojen ja elokuvarekvisiitan kokoelman.
TNT:n asiakastapahtuma rakentui uuden Bond-elokuvan ennakkonäytöksen ympärille Tennispalatsi 1:ssä. Myös suomalaiset AMOC:in jäsenet oli kutsuttu illanviettoon yhdessä TNT:n kuudensadan kutsuvieraan kanssa.
Lee Tamahori – Die Another Day elokuvan ohjaaja – kävi samaan aikaan Suomessa ja hänet oli kutsuttu TNT:n lehdistötilaisuuteen, jossa hän myös piti oman lehdistötilaisuutensa. Vasemmassa kuvassa hänen kanssaan Peter Nelson, DB5:n omistaja.
This 'Goldfinger' DB5 was on display at the Helsinki Motor Show 29.11.-1.12.2002. AMOC Finland was co-operating in the project with TNT Global Transport. The car is an officially approved recreation of the James Bond car, built for promotional purposes. Peter Nelson, the owner of the car accompanied it to Finland and gave introductory speeches in the events. He owns the world's largest private collection of 007 cars and movie props.
Lee Tamahori – the director of Die Another Day – visited Finland and was invited to the press event of TNT, where he also held his own press event. Here seen with him is Peter Nelson, the owner of the DB5
AMOC Finland oli mukana järjestelemässä muitakin elokuvan ennakkonäytöksiä, ohessa joitakin kuvia. Englannin Suurlähetystön tapahtumassa oli mukana AM DB7 Vantage.
AMOC Finland was also helping with the arrangements of several previews of the new James Bond movie Die Another Day, AMOC members were also invited to one of the previews.
MTV3:n Bond-ennakkonäytös, jossa esillä oli 1972 V8 Saloon – one of the guest previews with 1972 V8 Saloon
V8 at Bristol movie theatre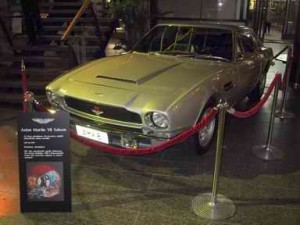 Classic Sportscar Concours d'Elegance 2002
Suomen ensimmäinen Aston Martin Owners' Club kokoontuminen järjestettiin 16/6/2002 Classic Sportscar Concours d'Elegance -tapahtuman yhteydessä Turun Kakskerrassa, Harjattulan Kartanon alueella. Paikalle tulivat kaikki neljä Suomeen rekisteröityä autoa, sekä kaksi Ruotsin rekisterissä olevaa:
The first Aston Martin Owners' Club event in Finland took place on 16/6/2002 in conjunction with the Classic Sportscar Concours d'Elegance in Kakskerta, Turku, at the Harjattula Estate and Golf Club. All the four cars with Finnish registration took part, as well as two cars with Swedish plates:
Tapahtumaan osallistuneet automme
– Our participants:
DB 2/4 Drophead Coupé, 1955
DBS, 1968
V8 Saloon S2, 1972
V8 Saloon S3, 1976
V8 Saloon S3, 1976
Virage Coupe, 1991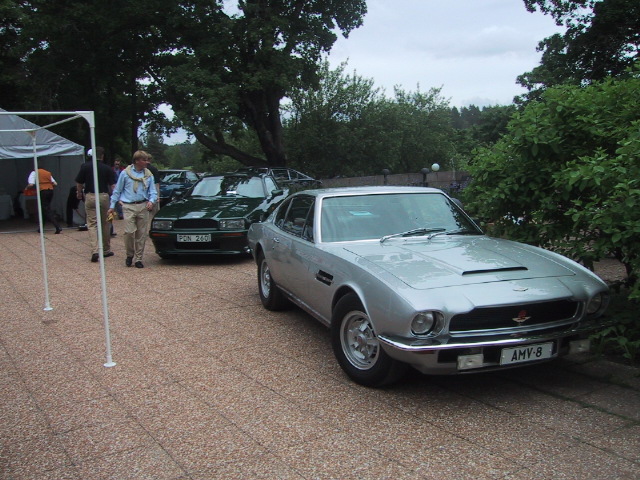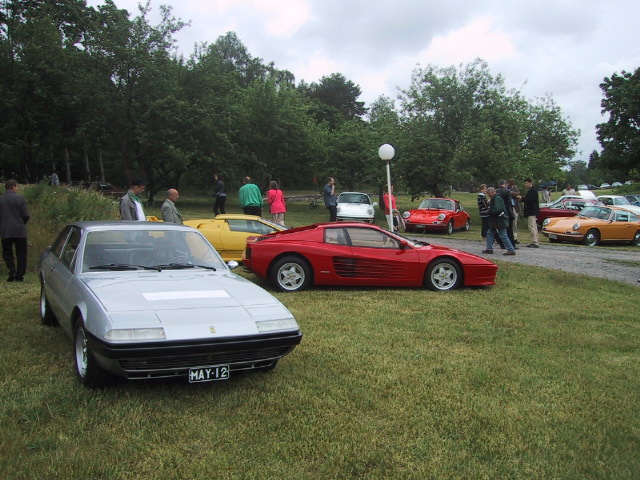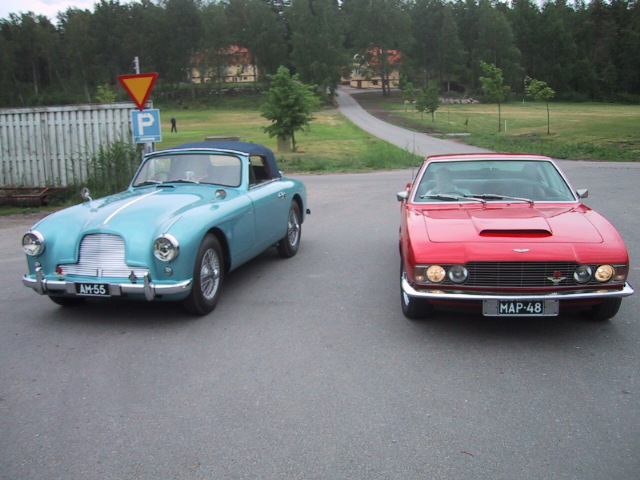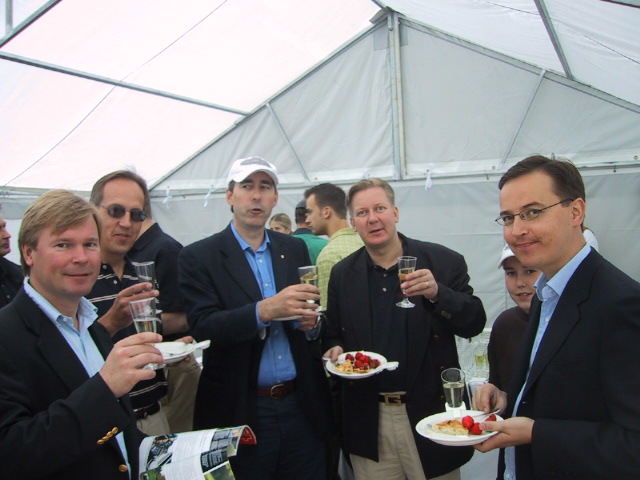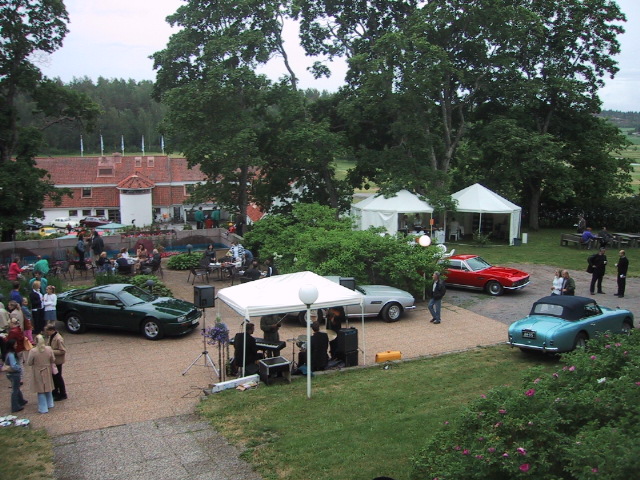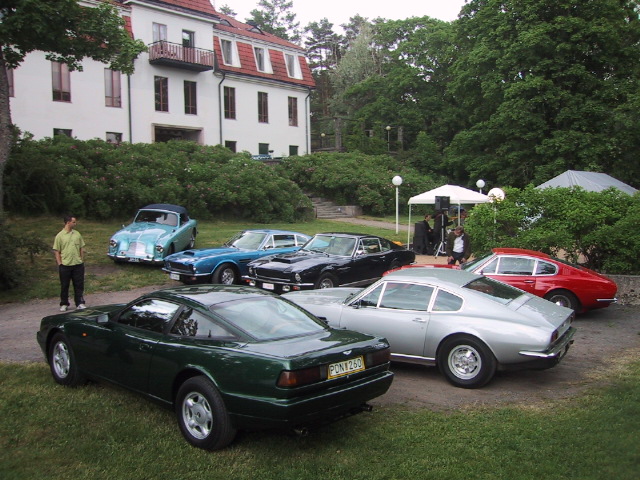 Some other cars of this inter-marque event included a very original Ferrari 365 GT4 2+2 awarded 1st prize in the fixed-head class, a Ferrari Testarossa, a Lamborghini Diablo and a few Porsche 911's. Finnish importers of Porsche, Ferrari, Maserati and Alfa Romeo were also showing new cars and especially Mercedes-Benz with a line-up of all the latest sportier models including the brand new CLK and SL.
Concours d'Elegance results:
Fixed-head class
1st Ferrari 365 GT4 2+2, unrestored
2nd Lotus Elite
3rd Aston Martin V8 Saloon S2, unrestored
Open top class
1st Aston Martin DB 2/4 Drophead Coupe, restored
2nd Mercedes-Benz 230 SL, restored
3rd Austin Healey 3000, restored
Concours – kilpailussa pääpalkinnon sekä avoautojen sarjan parhaan auton palkinnon vei erittäin harvinainen Suomessa entisöity DB 2/4 Drophead Coupé.
The Best Of Show and the best open car prize was awarded to a Finnish-restored DB 2/4 Drophead Coupé.
Kolmanneksi umpimallisten urheiluautojen sarjassa sijoittui webmasterin V8 Saloon Series 2, auto on kunnostamaton alkuperäiskuntoinen, vasemmanpuoleisella ohjauksella ja automaattivaihteistolla varustettu.
Third in the fixed-head sportscar class was the webmaster's V8 Saloon Series 2, a non-restored original left-hand drive automatic model.
Tapahtuma onnistui hienosti ottaen huomioon Suomen Aston Martin-kannan. Automme olivat huomion keskipisteenä palkintojenjaon luona ja kaksi palkinnoista meni Astoneille. Tilaisuuden kokonaiskävijämäärä (n.sata autoa) oli ehkä hieman rajoitettu johtuen sateen mahdollisuudesta ja muutamia kuuroja saatiinkin. Palautteesta päätellen uskon kaikkien odottavan ensi vuotta. Suurkiitos UBS:lle teltan ja buffetin sponsoroinnista sekä avunannosta järjestelyissä! Erityiskiitos myös Antti Wihannolle taas yhden hienon tapahtuman järjestämisestä.
The event was a success especially considering how few Aston Martins we have in Finland. The display was really a highlight of the whole event and that's where the prizegiving also took place. Two Astons were even awarded prizes. The total quantity of participants (about 100 cars) was maybe limited a bit due to the risk of rain, and we did get a few drops. I think everyone is looking forward to next year's event. Big thanks to UBS for the sponsorship of the tent and the buffet as well as help in the arrangements! Special thanks also to Antti Wihanto for arranging yet another fine event.
17/6/2002
Harri Asunta